CBC 2000 Giveaway Thank You
The wonderful Facebook beading group, Creative Bead Chat, had a giveaway when they reached 2000 members.  I have been a member of this group for quite awhile, and though I don't post very often (I'm a little shy in crowds) I visit the site every day for inspiration, shopping ideas, and advice.  Many members donated jewelry components or finished pieces for the giveaway and the other members just had to post a comment on the items that caught their fancy.  The site administrators then used a random number generator to choose the winning post for each donated item.  I had to force myself to not be greedy and post on almost every item!  The offerings were wonderful and the donors were so generous.  I must have good karma because the beads that I won were my favorites and fit perfectly with the theme of my business, using genuine sea glass.  These are the beads that I won, generously donated by Michelle McCarthy of Firefly Design Studio: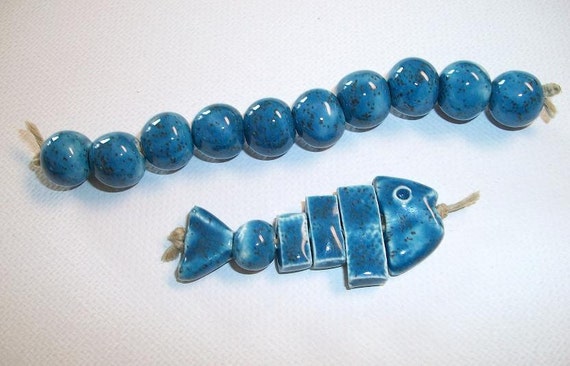 Ceramic Beads from Firefly Design Studio


My pieces went through many incarnations and, in hindsight, I wish I had taken more photos.
Firefly Design Studio's ceramic beads were so much fun to design with, incorporating my beach glass, being able to use my favorite colors, it was all good!  Because Michelle had donated such a great cache of beads, I was able to make a necklace, earrings, and a bracelet.
For the necklace, I used chunky pieces of frosty white beach glass, howlite rondels, freshwater pearls, abalone beads,  some asymmetrical coconut wood beads that I had in my stash, and I finished it with Vintaj Brass and leather.
For the bracelet, I was able to use my new brass rivets to attach the beach glass to the Vintaj Brass focal.  It is always a challenge for me to come up with unique ways to use beach glass in my pieces without breaking it!
 I liked the simplicity of using just one of Michelle's beautiful ceramic beads as the focal for each earring.  And, for me, it doesn't get much better than being able to combine blue, brown, and white!
So a huge thank you to all who contributed to the CBC 2000 Giveaway and especially to Michelle McCarthy at Firefly Design Studios!   I so fell in love with her beads that I just couldn't resist purchasing a few.
Now to get busy with another creation!
Connie Mattos
Owner/Designer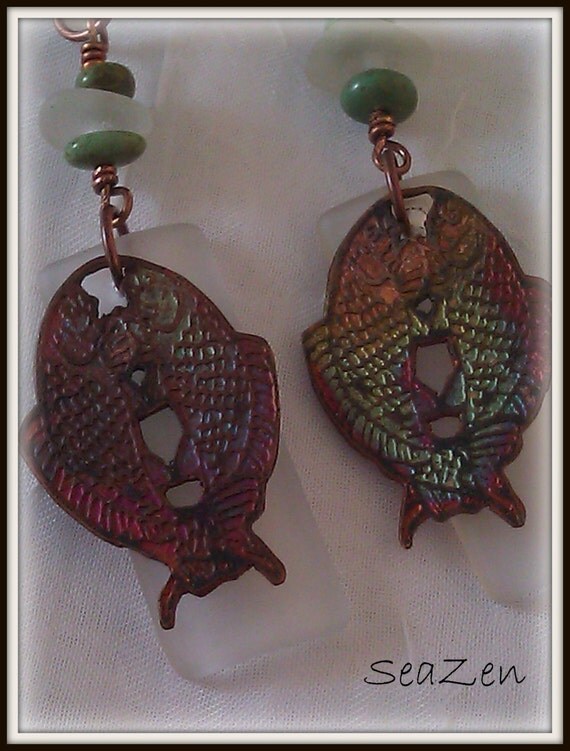 Here are the other members participating in the Thank You blog hop.  Please stop by and say 'hi'!
Sandra – http://skyescreativechaos.blogspot.com
Carolyn – http://artisanwhimsy.com/profiles/blog/list?user=07ase2t9q0suy
Kay      – http://kayzkreationz.blogspot.com
Jana     – http://lasjoyasdejana.blogspot.com
Alenka  – http://pepita-handmade.blogspot.com
Rose    – http://handcraftedjewelrybyrose.blogspot.com
Melissa – http://beadrecipes.wordpress.com
Malie   – http://kumifisher.blogspot.com
Kashmira – http://sadafulee.blogspot.com
Valerie – http://artisanwhimsy.com/profiles/blogs/cbc-2000-giveaway-blog-hop-1